My ethnical responsibility and my professional credo result from the combination of economic understanding and the knowledge of the mental recovery. The relief in stress situations and the reduction of stress levels are my primary aim.
Management Institute Psyche and Economy
Since 2015 I'm the manager of the Institute for Psyche and Economy at the Sigmund Freud University. This institute is unique in Europe and offers a great variety of high level analysis and workshops. The combination of different disciplines enables us to conclude permanently new scientific expertise and to offer companies new solutions.  
Visit the Institute for Psyche and Economy
27. Februar 2018
Gibt es schlechte und gute Süchte?
derStandard.at
18. November 2017
Moral und Kunstgenuss
Salzburger Nachrichten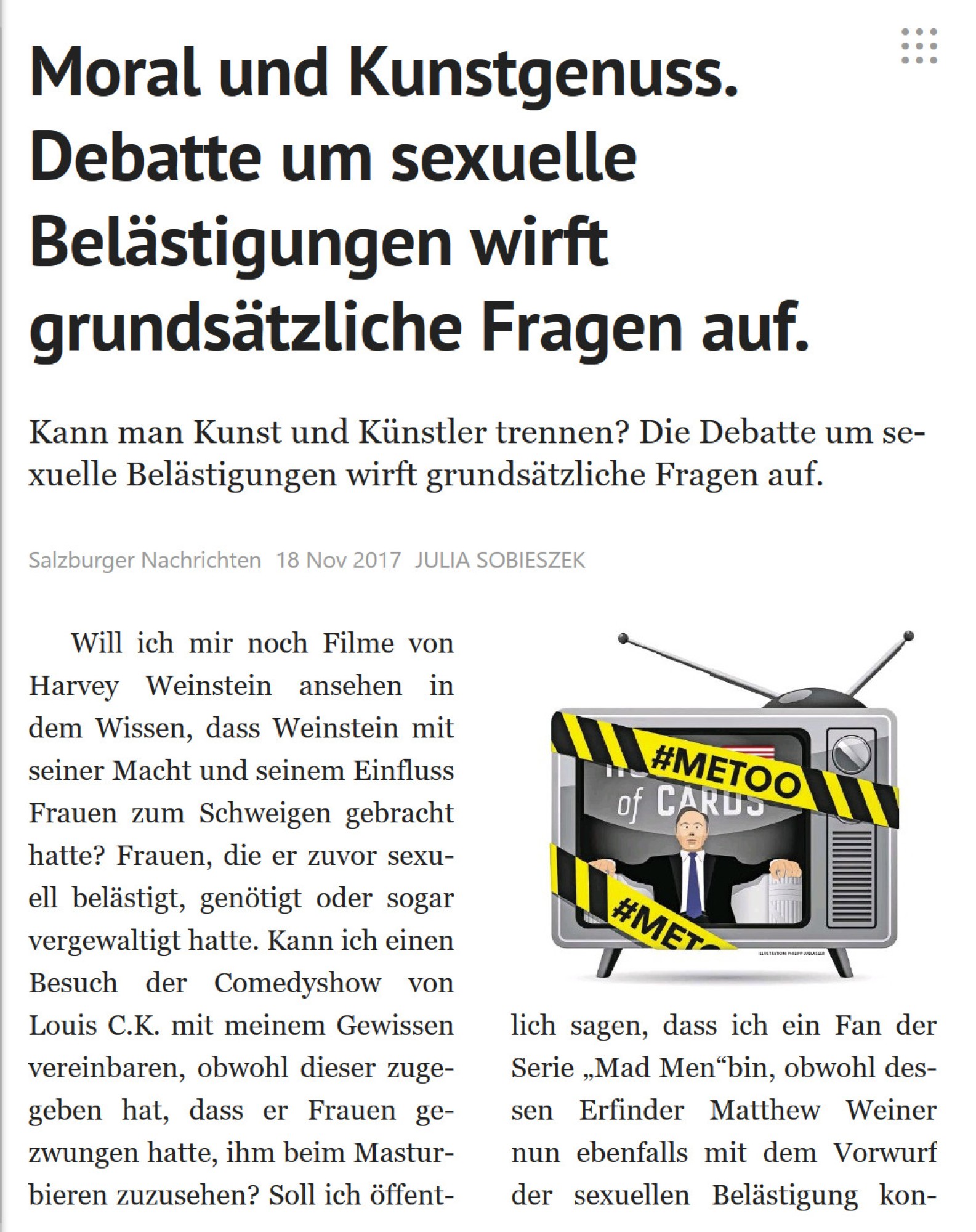 Juli 2017
Persönlichkeitsentwicklung in Organisationen
ÖBVP NEWS Juli 2017
März 2017
Hat der Seelendoktor ausgedient?
JATROS 2/2017
August 2016
Coaching
Perspektiven
IGW Publikationen in der EHP
---
12. Jänner 2016
Wenn der eine dumme Moment alles zunichtemacht
Artikel "Süddeutsche Zeitung"
23. Jänner 2015
Wissen statt Tabu: Psychische Gesundheit am Arbeitsplatz
Artikel "Die Presse"
16. November 2015
Wer früher gestresst ist, ist länger tot
Artikel "Kurier Online"
Süchtig nach Arbeit    
Artikel "Business look"
14. März 2015
Tüchtig und süchtig
Artikel "Wiener Zeitung"
---
29. Juli 2012
Das fremde Wesen im Vorzimmer
Artikel "Welt am Sonntag", Nr. 31
31. Oktober 2012
Dreier Beziehung in der Chefetage
Artikel im Kurier / Karrieren
---
7. März 2011
Aufstand gegen den Vater
Artikel "Die Weltwoche", Nummer 11
---
29. März 2010
So funktioniert die Macht
Artikel im Profil Nr. 13 | 41. Jg.,
---
Dissertation
Ménage à trois
Strukturelle Interdependenzen in der Persönlichkeit von Führungskräften, deren PartnerInnen und AssistentInnen Dissertation.
---
Diplomarbeit
Die Persönlichkeitsstruktur von Führungskräften
---
Bakk. Arbeit
Die Entstehung von Burnout
– Vom Begriff Burnout zum Figur-Hintergrundprinzip der Gestalttherapie und der Feldtheorie Kurt Lewinsa
---